How to Remove index.php From WordPress URL
Updated September 6, 2020
- By
Editors Note: Do you need help with your WordPress site? Learn how you can get Unlimited WordPress Support 24/7 by U.S. based developers. Learn more
WordPress is, by far, the best blogging platform out there. However, most users have asked how to remove index.php from the WordPress URL. If every post is displaying this phrase in the URL, you should know that it is coming from your permalinks settings.
However, not all WordPress users know how to get rid of the problem.
If you have recently migrated your WordPress website from one host to another, then there is a possibility for index.php to appear in your website's URL.
Let's take a look at the reasons why you need to remove index.php from WordPress URL.
Reasons To Remove index.php From Your WordPress URL
If every post from your website has index.php in the URL, then your site can't be search engine friendly. Moreover, it does not add any value to your content. When it comes to permalink structure, you should always stick with the post name as your WordPress URL.
Now that you have a good understanding of why you need to remove index.php from the WordPress URL, you will have to follow the steps to remove it from the URL.
How to Remove index.php from WordPress URL
First of all, this usually happens when people use a Windows-based hosting server. You should switch to a Linux based server as it is the best match for every WordPress website out there.
When it comes to removing index.php from WordPress URL, you will follow a few easy steps. However, there is something that you should do before making any changes to your site's permalink structure.
Make sure to make a complete backup of your website.
At AccessWP, we include daily backups on all of our WordPress support plans. This is a great way to protect and restore your website in an event of a crash or error.
Once you have made the backup, you can now navigate to Dashboard > Settings > Permalinks.

Here, you will be able to see the permalink settings of your WordPress website. It will be displaying index.php in your permalinks like this:

All you have to do is to change the permalink to Post name and then save changes.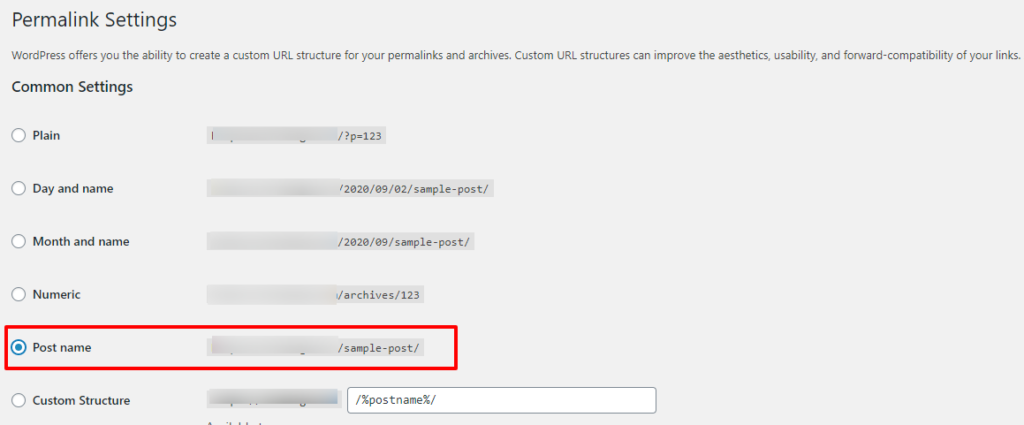 Once you are done, you will see that the system will no longer include index.php in your WordPress posts. Moreover, WordPress will take care of the redirection automatically for the old links on your website.
With this change, search engine traffic will not be affected.
Things To Do After Removing index.php From Your WordPress URL
After changing the permalink structure, there are a couple of things that you should do. Make sure to check the internal links that you have created in your blog posts. You can do it by using a Broken Link Checker Plugin.
Another thing that you can do is resubmit the sitemap to Google Search Console.
Issues with the sitemap won't necessarily arise, however, if you are checking things thoroughly, then this will help you avoid any mishap regarding your website.
It will take a couple of days to witness newly indexed links with no index.php in the links.
Look for a Professional WP Maintenance Service
If you are running a business website and you have no idea how to remove index.php from your WordPress URL, then you can always look for a professional WordPress maintenance service.
It is necessary for you to keep your website updated, hassle-free, and secure.
To do so, you can sign up for AccessWP's Unlimited WordPress Support service where we can help you with the technical aspects of maintaining your website.
Most people find it extremely difficult to optimize their websites. If you have this handy service in your contact list, then it will become easier for you to boost your business without any problems.