7 Reasons to Invest in Unlimited WordPress Support
Updated February 13, 2019
- By
Editors Note: Do you need help with your WordPress site? Learn how you can get Unlimited WordPress Support 24/7 by U.S. based developers. Learn more
You've spent loads of time, money, and effort creating your WordPress website. But, what have you done to maintain it? In this article, I'm going to share with you 7 reasons why you should invest in unlimited WordPress support.
A website can be an effective digital marketing and revenue-generating tool. Unfortunately, there are always forces out of your control working against your sites, such as code updates, content changes, search engine changes, malware, hackers, and even time.
Don't worry, it's not a conspiracy against you! These things are all part of website maintenance. After your site launches, you need to keep it updated, optimized, and protected for the sake of your customers and business.
[clickToTweet tweet="Keep your website updated, optimized, & protected for the sake of your business & customers." quote="Keep your website updated, optimized, and protected for the sake of your business and customers."]
Investing in an unlimited WordPress support service could be your best solution to staying on top of site maintenance. Let's discuss why handing this task over to a team of experts benefits you and your business.
1) Unlimited WordPress Support Saves Time
Have you ever noticed that WordPress maintenance is never done? It's that annoying item on your to-do list that never disappears.
Think about the regular updates needed:
content
CSS styles
theme
plugins
broken links
design enhancements
WordPress core changes
form creation and configuration
page layouts
backups
And those are just a few!
You're no stranger to the concept of "time is money." Devoting time to maintaining your WordPress site means forgoing other more important, revenue-generating business tasks.
And that's assuming you know how to do all of these things. If you don't, you'll need to research the internet to find tutorials and guides first. Assuming you find the information you need, you'll still need to make the changes. Next thing you know, site maintenance has consumed your entire day!
For example, when you need additional functionality on your site, which of the 45,000+ plugins will you choose? Do you have time to research the plugins and configure them once installed? Will you have the time and knowledge to fix your site if a new plugin breaks it?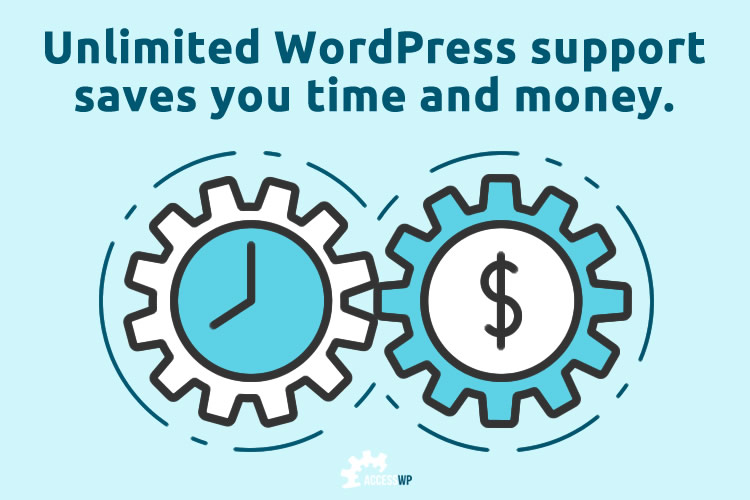 Unlimited WordPress support frees up your time, giving you more freedom to do what you love—whether it be working on your business or taking time off to do other things. When you hire a WordPress expert, you accelerate the time it takes to get your website-related tasks done versus doing them yourself.
2) Unlimited WordPress Support Monitors Security
About 27% of the web uses WordPress, which illustrates the platform's popularity. Unfortunately, the prominence and open source code of WordPress make it vulnerable to security breaches.
If your business and income rely on your website working, then WordPress security protection needs to be a top priority.
[clickToTweet tweet="Using your website for business? Then #WordPress security protection is a top priority." quote="Using your website for business? Then WordPress security protection is a top priority."]
What would you do if your site was hacked? Would you even know if your site was hacked?
Investing in WordPress support means that you have a team monitoring your site so that you don't have to. If problems are detected, your support provider removes the malware and fixes your site. They can also restore your site since daily backups are often part of their services.
When it comes to security protection, an ideal WordPress support plan:
Detects viruses
Cleans up malware
Prevents hackers
Performs security scans
Prevents spam
Deletes vulnerable files
Don't forget that after the WordPress community identifies a security breach, a bunch of updates and releases usually follow. While updates protect your site, they are also a source of work. With an unlimited WordPress support plan, it's all taken care of!
3) Unlimited WordPress Support Protects Your Business
Has your website ever gone down? When it happens, you can lose significant profits, anger customers, and upset partners. You might even incur liability damages depending on your site's role in your business.
One thing is for sure: you'll be freaking out trying to get your site back up and running immediately.
Business owners often plan ahead when it comes to purchasing insurance and preparing for unfortunate circumstances. Yet, they often overlook protecting their website and online assets.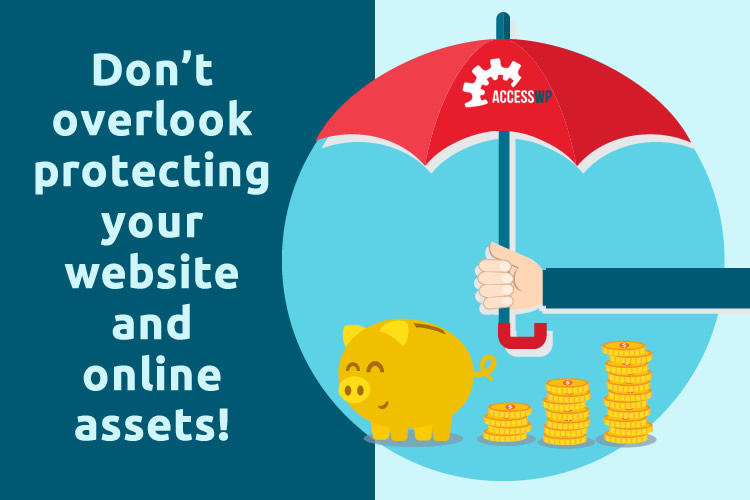 Unlimited WordPress support services protect your site to minimize the chances of bad things happening. When something does go wrong (and it's WordPress, so it will!), a responsive support provider resolves your technical issues quickly with minimal impact on your wallet and your business.
Although WordPress support services don't shoulder the burden like an insurance policy does, they do help protect your website, which is a big part of business. And, you won't be stranded when business is on the line and you need WordPress help. A team of experts is only an email away.
4) Unlimited WordPress Support Improves Your Web Presence
Keeping your site updated and secure are two ways that WordPress support services help you.
However, other tasks are required to optimize your site and web presence. For example:
uptime monitoring
Google indexing
redirects
meta descriptions
sitemap submissions
plugin add-ons and configuration
page load time
web speed analysis
image file compression
database cleanup
As with nearly everything WordPress-related, these items are ongoing and need attention more than once.
Site optimization is another area where a WordPress support plan comes in handy. When optimized for search engines and customers, your website benefits your bottom line.
[clickToTweet tweet="Optimize your site to avoid search engine penalties and Google's Blacklist. #WordPress" quote="Optimize your site to avoid search engine penalties and Google's Blacklist."]
When not optimized, your website can run into search engine penalties or even end up on the Google Blacklist. Slow load times, error messages, and script problems can plague your site. Today's savvy consumers won't tolerate these things.
After all, you don't want to approach your site as a "launch it and leave it" endeavor. Your website is a valuable team member that works to represent and grow your business. Treat it well!
5) Unlimited WordPress Support Saves You Money and Hassle
Keeping your site updated and healthy could equate to lots of changes one month and fewer changes the following month. For this reason, forecasting your time and budget related to website maintenance is difficult.
As for outsourcing, if you don't have a developer, you'll need to look for one. It's no easy task either. Remember, the developer will have the highest level of access to your site. You'll need a professional who is affordable, dependable, trustworthy, and flexible. Having someone in your time zone who speaks your language would be helpful too. (All of that's not too much to ask for, right?)
Once you find the right developer, you'll be managing your WordPress request process, the back and forth communication, monthly billing, and everything else that accompanies managing an outside consultant.
A WordPress support service provider, on the other hand, covers these details at an affordable monthly fixed price. It's convenient, hassle-free, more cost-effective, and less time-consuming.
There's your "easy" button!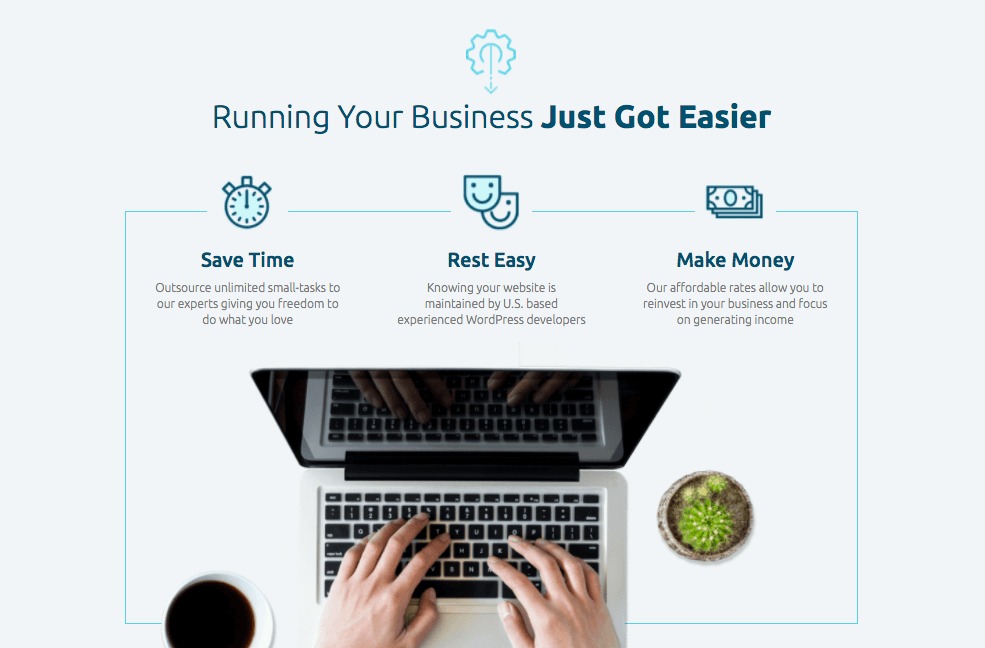 6) Unlimited WordPress Support Leverages the Knowledge of Experts
Technology changes frequently. If WordPress and all things technology aren't your areas of expertise, then keeping up can be challenging.
There are entire businesses that focus on the WordPress industry, web trends, Google's latest updates, and coding best practices. Likely, these topics aren't your core competency or even of interest.
Thankfully, WordPress developers care about these topics and stay on top of them as part of their profession.
[clickToTweet tweet="Unlimited #WordPress support gives you expert help without the high price tag." quote="Unlimited #WordPress support gives you expert help without the high price tag."]
When you hire an expert, you leverage their education, experience, and contacts. Their years of success (and failure) benefit you. However, expert help can be expensive, especially if you need a monthly retainer.
That's why unlimited WordPress support works in your favor. You receive expert help without the high price tag. Instead of worrying about hourly rates or monthly retainers, you enjoy expert care as part of a low-cost monthly maintenance fee.
7) Unlimited WordPress Support Provides Peace of Mind
If you cannot afford an in house IT support staff to monitor and maintain your website, then WordPress support services are an excellent alternative. It's like having your own technical support staff at a fraction of the cost. Our team can also provide WooCommerce support for your eCommerce website.
Rather than worrying about your site, you can breathe a big sigh of relief. Relying on the experts gives you peace of mind since you know someone else will be managing and dealing with your site stuff. You're off the hook!
A support plan covers even the most annoying and technical aspects of WordPress, including:
Supporting emergency issues
Fixing a white screen of death
Troubleshooting errors
Answering general WordPress questions
Resetting a password
Backing up your site daily*
Restoring your site
Creating a child theme
Choosing the right plugin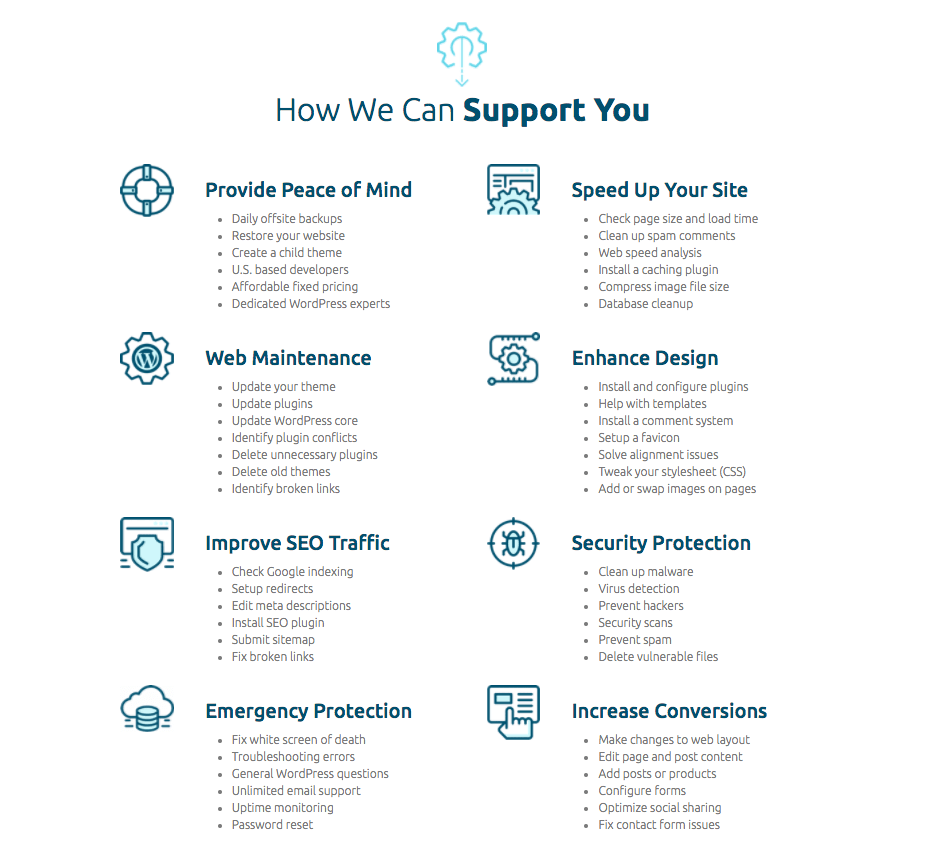 *By the way, if you get hacked, daily backups mean your website can be restored to a recent version if necessary. That's serious peace of mind!
There are plenty of times when you need WordPress help, and you can't wait a week for it. With unlimited WordPress support, you don't have an excessive waiting period for resolution. Plus, you aren't charged per request.
You're saving time and money, which makes every business owner relieved.
Final Thoughts
Launching a website is only the first step in creating an effective digital presence. For your site to be successful, you need to maintain it and keep it fresh with new content, updated code, and current security measures.
Investing in unlimited WordPress support helps you, your business, and your site stay efficient and keep costs to a minimum.
If you have any questions about our WordPress support at AccessWP, don't hesitate to contact us. To learn more, visit our services and pricing information.