8 Signs You Were Hacked and Need WordPress Malware Removal
Updated January 24, 2019
- By
Editors Note: Do you need help with your WordPress site? Learn how you can get Unlimited WordPress Support 24/7 by U.S. based developers. Learn more
"The best defense is a good offense."
No truer, more accurate words have been spoken when it comes to protecting your WordPress website from hackers.
It's far better to secure your site to avoid a compromise. However, life happens, and you could find yourself dealing with a hacker and in need of WordPress malware removal.
Maybe you're wondering if hacking is really something that might affect you? After all, why would anyone target your small business site? Unfortunately, it happens all of the time, even to small, relatively unknown sites.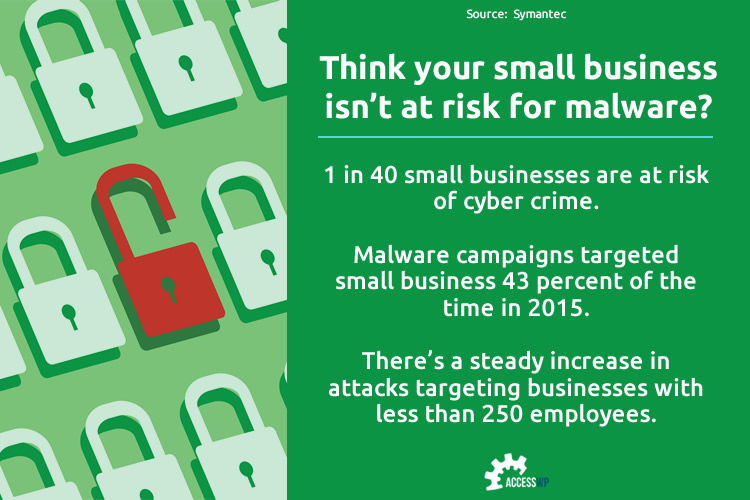 In fact, according to Symantec's 2016 Internet Security Threat Report, 1 in 40 small businesses are at risk of cyber crime. Malware campaigns targeted small business 43 percent of the time in 2015.
While you might assume that your site is safe, it turns out that nearly 75 percent of legitimate websites have unpatched vulnerabilities that cybercriminals will use to infect users.
What is Malware?
When you've been hacked, it usually means that malware compromised your site.
Malware is the abbreviation for "malicious software." Malware refers to the hostile, unauthorized programs meant to harm your website and its visitors. When someone hacks your website, it means they are using your site to doing something bad. Many times hackers add malware to accomplish these bad things.
[clickToTweet tweet="A malware infected site puts visitors, customers, & you at risk, which is bad for business." quote="A malware infected site puts visitors, customers, & you at risk, which is bad for business."]
There are many types of malware, such as adware and viruses, as well as different formats, such as scripts, code, and active content. Frequently, the type of malware is chosen based on what the hacker wants to accomplish.
Sometimes it's clear why your site is being hacked. Other times, you may not know the real intention. Popular end goals for hacking a website are to:
Gather sensitive, private, or confidential data
Steal traffic
Steal money
Purchase items fraudulently
Boost SEO for another site
Generate spam
Vandalize it
Redirect it to a new page
Take it offline
Boost ego (aka just because they can)
No matter the reason, a hacked site doesn't always equate to malware. The two are not synonymous, although hacked sites commonly have malware present.
Once malware compromises your site, you're putting visitors and customers at risk, which is bad for business. Your site could infect other computers, which causes headaches for others ranging from annoying popups to credit card fraud or worse. Trust me, you don't want your business associated with fraudulent or malicious behavior.
Now that you know what malware is and how it can hurt business, how do you know if your site has been infected?
8 Signs You've Been Hacked and Need WordPress Malware Removal
Sometimes it's obvious, but other times you may be unaware that your site was hacked. If you're not using software, a service, or plugins to protect your site as the first line of defense, watch for these warnings! They'll help you figure out if your site was hacked and if it's time for malware removal.
1) Your Hosting Provider Shuts Your Site Down
Your hosting provider may know your site is in trouble before you do. As a matter of protocol, your provider could take your site offline and notify you of the shutdown.
In this situation, there's a good chance a hacker and malware are to blame.
To prevent the malware from spreading, your hosting provider may reformat the server, deleting your site and its data. It's critical to ensure your site is backed up daily. Otherwise, you'll be stranded without a current version of your site to restore. That won't be good for business.
2) A Web Browser Warning Appears
One way to check your site is to do a search for it in a web browser. Some browsers display warnings when malware has corrupted a site.
For example, Google Chrome protects its users with various different warnings and alerts if it thinks a site is compromised. If you've been hacked, Chrome will display "This site may be hacked" or "This site may harm your computer" message below your URL on the search engine results page.

Chrome also alerts users to dangerous or deceptive sites with specific warnings, such as:
The site ahead contains malware.
Deceptive site ahead.
The site ahead contains harmful programs.
Any of these warnings indicate that your WordPress site may be infected with malware and removal is in your near future.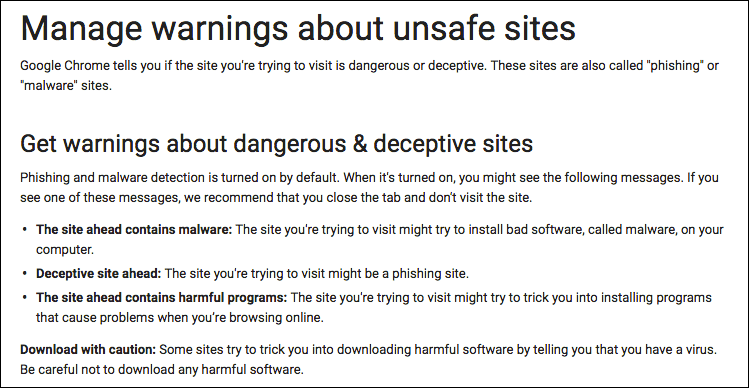 3) Your Site Redirects to a Different Page
Hopefully, you visit your website regularly to check on it. That way you'll know when a hacker has taken over your site and changed the content where your site points to. This is called redirecting, defacing, or vandalizing your site.
Here's what that scenario might look like:
Sometimes hackers will hold your site hostage and ask for ransom to return your site to your control. Other times hackers are only inflating their ego by showing off their "skills" and don't ask for money.
Either way, you can imagine how detrimental a homepage takeover is for your business. Your brand is negatively affected, and you'll chase away site visitors quickly. What's worse is that customers may fear their information is at risk. You don't need any barriers to buying!
For you personally, getting hacked is more than a hassle. You lose time and money. When a hacker claims stake on your site, you know you need to remove malware from your WordPress site.
4) Strange Content Appears on Your Site
The site redirect is anything but subtle! However, sometimes content hacks are less conspicuous. In fact, you may not immediately notice content changes on your site, such as:
Ads that aren't supposed to appear
Code displaying randomly
Spammy text with links
Pop-ups
The content directs visitors to suspicious websites or collects personal data. Sometimes the pop-ups are disguised as computer or security warnings. These fake warnings play on people's fears and emotions, making them more likely to comply with the instructions within the warning to click a link, provide personal information, or worse.
Many times the ads and links are for topics you don't want your business associated with, such as adult sites and pharmaceuticals. Embarrassing!
Once you spot this unauthorized content, you know a hacker has targeted your site and you need website malware removal immediately.
5) Your Site Analytics Don't Look Right
Check your website analytics since this data uncovers what's happening on your site from code, SEO, and backend aspects.
You're looking for noticeable changes in spam, traffic, or even a warning message.
For example, via the Google Analytics Search Console, you may see a "Security Issues" warning if malware or malicious code is present on your site.
You might find an old post that is suddenly popular or an influx of spam, particularly from foreign countries. Other signs are a noticeable spike or a significant decrease in traffic.
Familiarize yourself with your site analytics. That way, you'll be able to tell if your statistics are unusual and something's wrong with your site.
6) A Search Engine Blacklisted Your Site
When a search engine removes your site from its index, you've been blacklisted. As a result, you'll lose about 95% of your organic traffic, which will impact sales and revenue for your online business.
Your site is blacklisted when authoritative sites such as Google or Bing detect malware on your website. In fact, Google blacklists about 10,000 sites a day.  The problem is, you don't always know when your site is blacklisted, and you want to know because it's a big deal.
Browsers display big, bold, full-screen malware warnings to site visitors when they try to access a site that's been blacklisted. The warnings vary per browser. According to Sucuri, they look like this:
The browser's goal is to protect the user and deter them from entering the site. So, even when visitors try to access your URL directly (aka not via organic search), your blacklist status will make the browser display a warning that will scare people away. No one wants to risk accessing a site that may infect their computer.
Translated into business terms, blacklisting effectively stops people from viewing your site, which hurts your reputation as well as your sales.
To figure out if your site is blacklisted, you can use online tools, such as:
Using a WordPress service like AccessWP to proactively prevent blacklisting is ideal. In the end, being blacklisted often means that your WordPress site is compromised and needs malware removal.
7) The Source Code Is Altered
Checking your backend site files and source code for tampering is another way to see if your site's been hacked. Common attack points are .htacess, .php, and media files.
For example, hackers may add or modify files on your server that resemble the WordPress core code. These files give hackers access to your site and server anytime through a "back door." Instead of logging in through the front end, hackers use the backdoor to modify or create files to launch malware.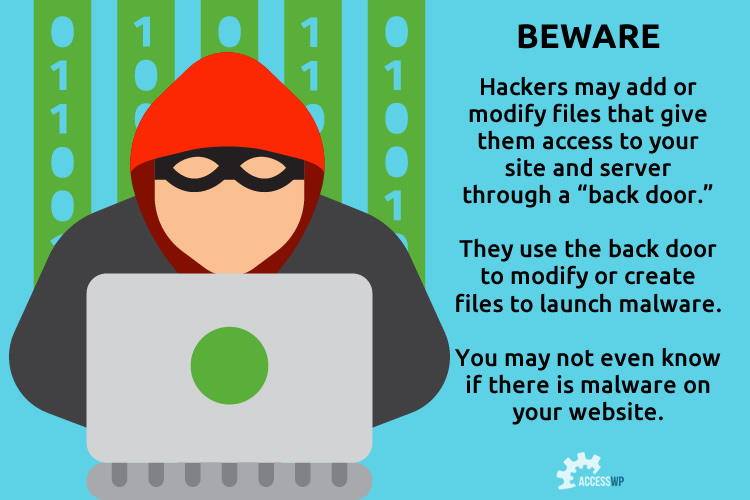 Indications include:
Anti-virus software warnings when accessing your URL
Emails you send from your domain bounce back
People complaining about spam mail from your site
Pharmaceutical promotions in place of your site's meta information in search results
Redirected pages (mentioned above)
500 error message
Hackers use a backdoor to perform various malevolent deeds, but often it's related to malware. You can check source code files using a malware scanner like Wordfence. Nevertheless, you'll still need WordPress malware removal to eliminate the bad files.
8) Your Site is Acting Weird
Hackers and malware can wreak all kinds of havoc on your site. If you come across any of these issues, there's a possibility malware is to blame:
Slow site speed
Can't access your site
The browser bar shows content loading from external sites
Users with admin rights that you didn't add
Plugins or themes that you didn't install are appearing
An empty white page loads instead of your website content
Anything that doesn't seem right!
When you have that nagging feeling that there's something wrong with your site, use a free online tool to see if your site was hacked. Here are several suggestions:
These tools are a good starting point when you're wondering about your site's health. If you have a hacked site, you're going to need WordPress malware removal to nurse it back to optimum health!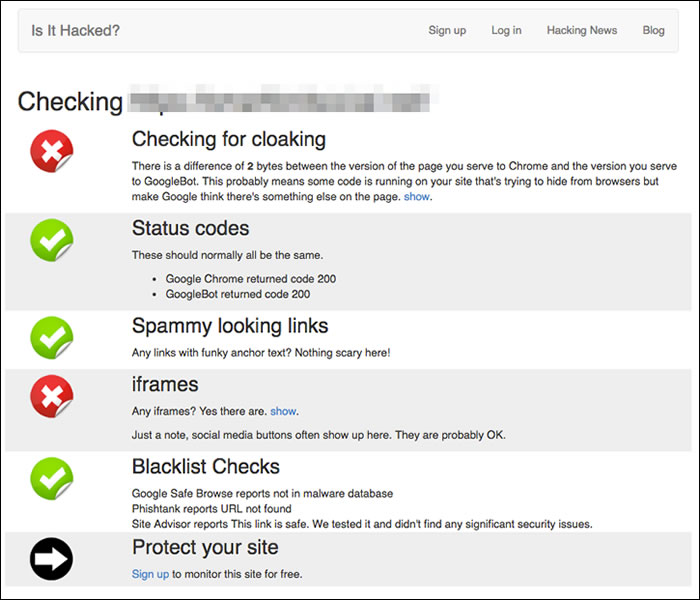 Final Thoughts
While a hacked site stirs up feelings of violation and fear, you need to focus on handling the situation with professionalism. An emotional response won't help the situation. One thing is for sure: when your WordPress site is compromised, you need to take action quickly to remove malware before it affects your brand's reputation and your bottom line.
[clickToTweet tweet="Act quickly to remove malware from your site before it affects your reputation and revenue." quote="Act quickly to remove malware from your site before it affects your reputation and revenue."]
Although prevention is the best solution, detection and quick resolution will save you a bundle of time, money, effort, and stress. WordPress.org offers a general idea of what to do if your site gets hacked, but hiring a professional service to remove the malware diminishes the burden on you.
Remember, many tools out there help detect and diagnose. But, you'll still need to manually remove files and make the necessary modifications to your site and server.
AccessWP protects and secures your site as well as removes malware from WordPress sites like yours. Please contact us today so we can help you!