The 16 Best WordPress Plugins That Every Small Business Must Have
Updated January 14, 2019
- By
Editors Note: Do you need help with your WordPress site? Learn how you can get Unlimited WordPress Support 24/7 by U.S. based developers. Learn more
If you're anything like me, choosing WordPress plugins can be a little like picking out dessert at the end of a meal…so many options but you can't have them all (although you've thought about it…lol)!
There are a ton of WordPress plugins to choose from—over 51,000 in fact. While it's nice to have options, knowing which plugins to choose can be a bit overwhelming. Like desserts, many may look appealing, but overdoing it can cause problems! 😉
Plugins are awesome at making those more complicated coding tasks easier. But too many plugins can slow your website and create problems with updates and malware. It's about balance.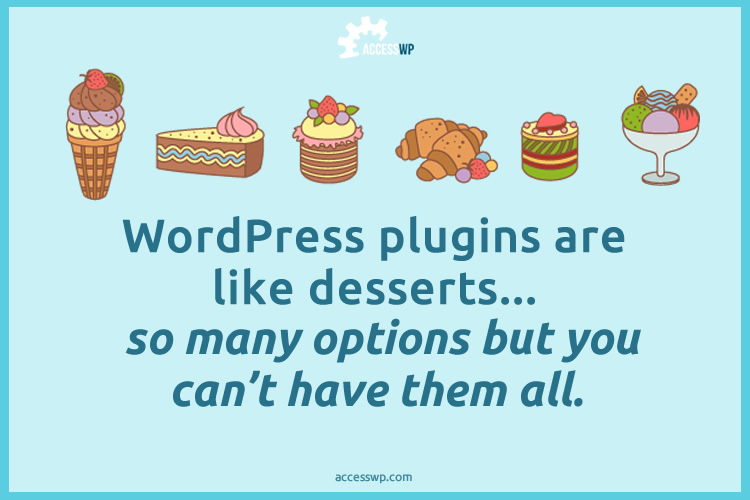 Although there are lots of irritating things about WordPress, one nice aspect is that plugins help you get more out of your small business website. As long as you know which are plugins are the best, you will be improving your site and how to manage it.
So which plugins are a must-have for your small business?
The Best WordPress Plugins for Small Business
Here's my list of the best WordPress plugins that every small business or personal blog needs. These plugins improve your site while reducing your time spent on coding and maintenance tasks you don't want to do. Even better, some of them help with marketing, readability, and search engine optimization. We've got you covered!
1. Sumo.com
Purpose: Build your list and your business.
Sumo is a marketer's dream. This plugin offers an array of marketing tools that help you build your email list and grow your website and business.
There is a free version of Sumo, which is wonderful if you want to try out some of the features. For the more robust plans, you'll need to choose a monthly or annual payment plan.
Sumo fits many needs. So while it may be a bigger investment, the plugin offers multiple benefits in one tool:
Social sharing
Contact form
Heat maps
Content analytics
Welcome mat
List builder
Image sharer
and more!
Check out all of the functionality you get in this one plugin. It's worth it!
2. Yoast SEO
Purpose: Optimize your site for search engines and humans.
You don't need to know much about search engine optimization when you're using Yoast SEO Tool. With reminders, pointers, and a built-in checklist, this free plugin is a powerhouse when it comes to making every page of your website search engine ready.
Yoast SEO has you covered. It's as simple as filling in the blanks and checking to see that you've covered the basics.
Keyword optimization
Meta title
Meta description
Social sharing descriptions
Social sharing image
Readability (passive voice, Flesch Reading Ease score)
3. Wordfence
Purpose: Protect your site from hackers and malware.
Hackers around the globe enjoy finding ways to wreak havoc on WordPress sites. You don't want to find yourself the victim of malware!
Take a proactive approach to protecting your site. Install the free version of Wordfence as your first line of defense again hackers and malware.
Wordfence is the most popular WordPress security plugin available. Over 22 million downloads and a five-star average rating make this plugin a must-have.
Thankfully, this plugin does not slow your site down. It offers:
real-time blocking
login security
strong password enforcement
security scanning
monitoring of real-time traffic
alerts if your site is compromised.
Need help with a hacked site? AccessWP can remove malware and restore your site's health.
4. WP Smush
Purpose: Reduce image sizes to maintain site speed.
Google cares about your site's load time and so do your visitors.
That's why you're always doing everything in your power to make your site load speed fast. Installing a plugin that compresses your images will help your site's load time.
WP Smush is a terrific option to compress your image files without affecting image quality. You can compress your files when you upload them or in bulk.
There are free and premium versions available.
5. Akismet
Purpose: Reduce spam comments.
Do you allow comments on your blog? Spam comments are a problem. One simple way to eliminate spam from your comments is to install Akismet.
There is a free version of this plugin for personal sites. However, you'll most likely need to invest in the commercial version, which is a low $5/month and totally worth it.
I use Akismet, and it does an excellent job of keeping spam off my site. Now and then a spammy comment slips through. But about 99% of the time, I don't have to deal with spam comments at all.
6. Backup Buddy
Purpose: Back up your data.
No "best WordPress plugins for small business" list is complete without a tool to backup your site in case of an emergency.
Don't get me wrong; a backup plugin is not a replacement for 24×7 unlimited WordPress support. But it's a good option to be proactive in storing your valuable data assets if you don't have someone managing your site.
[clickToTweet tweet="Be proactive in storing your valuable data assets if you don't have someone managing your site." quote="Be proactive in storing your valuable data assets if you don't have someone managing your site."]
One great backup solution is the Backup Buddy plugin. It doesn't have a monthly fee and utilizes cloud storage, which makes backups easy.
Whereas some backup plugins don't cover all bases, Backup Buddy checks all of the boxes. It offers:
Complete WordPress website backup
Scheduled, automatic backups
Off-site file storage
Site restoration from a backup
7. Click to Tweet
Purpose: Make it easy to share your content on Twitter.
Marketing influencers such as Mark W. Schaeffer, Kim Garst, and Sam Hurley will all testify that Twitter is still a strong player in the content distribution game.
With that in mind, you'll need an easy way to get more people to share your content on Twitter. That's where a "click to tweet" plugin makes a difference. In fact, some websites receive far more clicks as a result of these pre-formatted tweets.
[clickToTweet tweet="Some websites receive far more clicks as a result of pre-formatted tweets." quote="Some websites receive far more clicks as a result of pre-formatted tweets."]
Click to tweet plugins let you pre-format textual tweet content so that website visitors can easily tweet from your blog.
An excellent free option is Better Click to Tweet.  This free plugin is simple and gets the job done.
If you're looking for more pizazz and the option to use images with your pre-formatted text tweets, then the TweetDis plugin is another option.
For a one-time fee, you get access to many different tweet formats and options, including box, image, and "hint" designs (which appear within a sentence).
With either plugin, you get the extra benefit of adding a nice looking pull-out quote to your blog. The click to tweets break up text and improve flow for your readers.
8. TinyMCE Advanced
Purpose: Improve the Visual Editor options.
The functionality that's available in the TinyMCE Advanced plugin should be standard in WordPress. Since it's not, this plugin is one that every small business and all WordPress users need.
With the TinyMCE plugin, you add functionality to the Visual Editor, making the editor more powerful and convenient.
You don't need to know complicated code. With a nice user interface, you can easily add, remove, arrange, and configure the Visual Editor buttons and toolbar.
Some of the features include:
Search and replace in the editor.
Set Font Family and Font Sizes.
Import CSS classes from your theme's stylesheet
Select different list options.
9. Yuzo Related Posts
Purpose: Keep visitors on your site, reading your content.
Letting your website visitors know about other related blog posts provides value. It also helps your site analytics since you're keeping visitors on your site longer and increasing page views. Google associates the time spent on a page and on a site with quality content!
[clickToTweet tweet="Displaying related posts on your blog keeps visitors & Google happy." quote="Displaying related posts on your blog keeps visitors & Google happy."]
One way to achieve this is to insert internal links to other blog posts within your content. This is highly desirable.
But when a visitor gets to the bottom of the post, why not make additional content suggestions? It's the perfect place to make sure your reader isn't hitting a dead end.
You could manually insert related post links at the end of each blog post. Or, you can suggest related content using a plugin like Yuzo Related Posts.
This free plugin displays related blog posts based on category, tag, or taxonomies. There are different styles and formats from which to use. Overall, Yuzo Related Posts is very customizable as well as mobile responsive and fast.
10. TablePress
Purpose: Easily insert a table.
There was a time when you used tables as the foundation for your web design. Remember those days?
CSS arrived on the scene and changed that design trend. However, there still are times when you need a table here and there, especially if you're using pricing tables.
Sadly, WordPress doesn't offer table creation as part of its native functionality. You could code your table in HTML, but an easier route to take is installing the TablePress plugin.
A free plugin, TablePress boasts a five-star average rating with over 500,000 active installs. Pretty impressive stats!
Not only that, but TablePress has a nice user interface makes creating and editing tables a breeze.
A couple of nice bonuses:
You can format your text.
You can import an existing table (CSV, XLS, XLSX, HTML).
There are extensions available to extra functionality (such as mobile responsiveness).
11. Strong Testimonials
Purpose: Add social proof to your site.
One thing that helps ALL businesses regardless of industry is social proof. And, testimonials are one of the best ways to display social proof on your website.
The Strong Testimonials plugin features flexible display options and a customizable form for accepting new testimonials (now THAT'S cool).
Included with the plugin are:
Star ratings
Slider with several navigation options
Grid, columns, and masonry layouts
Featured images
Excerpts and "read more" links
And more!
With a developer who states he's willing to move mountains to make sure you get the most from his plugin, what's not to love? 🙂
12. Duplicate Post
Purpose: Make copying pages and posts simple.
Inevitably, you'll need to copy a page or a post to save yourself time and hassle. But WordPress doesn't give you that option. Good thing Duplicate Post does!
With this free plugin, you can clone your pages and posts so that you don't always have to start from scratch. I use this feature every month, so I consider this plugin to be a mega time saver!
And, with over one million active installs and a five-star average review, Duplicate Post is a no brainer.
13. Tracking Code Manager
Purpose: Install and manage your tracking codes with ease.
Tracking codes are a must these days. Facebook, Google, and analytical tools use them to track your ads, visitors, conversions, and more.
But who wants to add tracking codes to EVERY web page? You don't want to add the tracking codes to your PHP theme files because you run the risk of losing them during a theme update.
[clickToTweet tweet="Don't add tracking codes to your PHP theme files because you could lose them during an update." quote="Don't add tracking codes to your PHP theme files because you could lose them during an update."]
Now, your theme may have a user-friendly place to insert your tracking codes, especially if you're using a builder such as Divi. So check that out first before installing a plugin.
If you don't have an easy way to globally insert your tracking codes across your site, consider the Tracking Code Manager plugin. You can manage all of your tracking codes and scripts on one page and in one location.
Another nice benefit of this plugin is that you can control whether you display the code on your entire site or by page/post.
There are more features with the Premium version, but you can begin with the free plugin to give it a test run.
14. W3 Total Cache
Purpose: Speed up your site.
Site load speed is a BIG deal. Your website visitors expect your site to load quickly. If it doesn't, they'll leave. And, Google factors your site speed in its evaluation of your website.
According to HubSpot, the ideal page load speed is less than 1.5 seconds! That's fast.
[clickToTweet tweet="According to HubSpot, the ideal page load speed is less than 1.5 seconds!" quote="According to HubSpot, the ideal page load speed is less than 1.5 seconds!"]
Using a plugin like W3 Total Cache not only improves your site's SEO but also your user's experience. The plugin increases website performance and reduces download times with a content delivery network integration. That's a complicated way of saying, it makes your site faster!
According to the plugin's description, some of the most notable benefits include:
Improvements in search engine result page rankings
At least 10x improvement in overall site performance
Reduced page load time: increased visitor time on site; visitors view more pages
Improved conversion rates and "site performance"
15. Gravity Forms
Purpose: Manage your contact strategy.
As a business, you want your website visitors to have an easy way to contact you because it helps them trust you.
On the flip side, you need to track and manage your inquiries to send them to the correct people. Simply placing your email address on your site may result in lost opportunities.
This makes a contact form plugin a must.
[clickToTweet tweet="Simply placing your email address on your site may result in lost opportunities. Use a form!" quote="Simply placing your email address on your site may result in lost opportunities. Use a form!"]
If you have a tight budget and desire a simple contact form, then you may want to try the popular Contact Form 7 plugin. It supports multiple forms and customization.
However, my personal favorite and the plugin that I use on my site as well as all of my clients' sites is Gravity Forms.
This plugin is a powerhouse and offers functionality and benefits beyond just a simple contact form. It's easy to use with a drag-and-drop interface, has excellent customer support, and gives you the flexibility to use forms with payment processing and much more!
I've used Gravity Forms for simple contact pages as well as in-depth surveys. You won't be disappointed!
16. Beaver Builder
Purpose: Create Amazing Websites.
Let's face it, the lifeblood of your business is your online presence. Your website is the main platform that controls all the information about your small business online. Thus, if you can't build an incredible website to display your services, products, and information you will be missing out on the ability to generate new customers and leads. Luckily, you can now create stunning websites easily with Page Builder plugins on WordPress using tools like Beaver Builder.
The Plugin offers some great tools like:
An easy to use and flexible WordPress Theme Framework
A Drag and Drop WordPress Website Builder
And a WordPress Theme Builder so you can create and customize any type of website you want.
You'll love this awesome page builder. Try out their free demo on their website. If you have a hard time deciding, check out this article to help you learn the difference between Beaver Builder Lite and Pro.
Still not sure? You can read all the great reviews about Beaver Builder on Trustpilot.
Now You Know Which Plugins Are Best for Small Business
Because plugins can slow your site, it's important to choose the ones that offer the biggest benefits with the least amount of impact on your site's performance.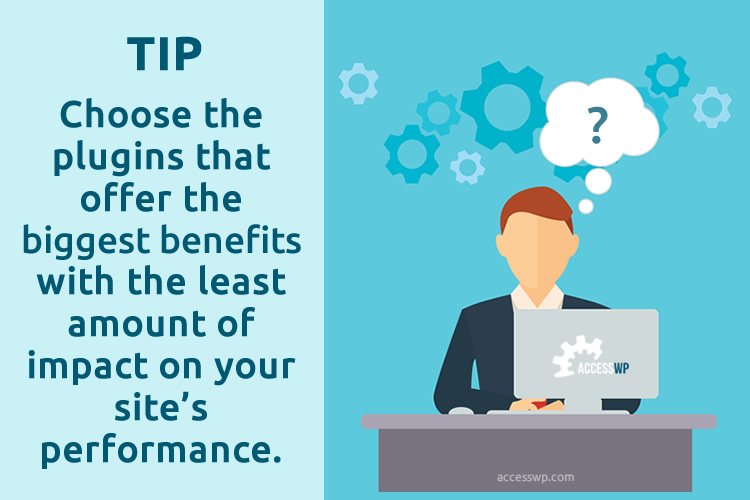 This is a well-rounded list of plugins that will help in several areas of your site:
maintenance
readability
marketing
SEO
Don't forget that plugins require constant updating to keep your site safe.
If you're wanting to go the extra mile and increase your website's SEO, here are some reporting tools that will help you acquire more traffic.
Hope you enjoyed this post and found these plugins useful.